Thanks to laser technology, Dr. Larry Korenman of Loveable Smiles in Richardson, TX has been helping infants who have trouble nursing due to tongue-tie and lip-tie issues.
Baby Neilah, 7 weeks old, was recently in the office to have a frenectomy for both her lip and tongue ties.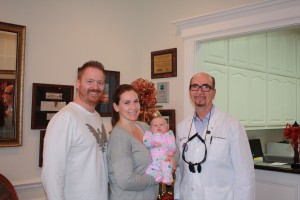 Before her frenectomy, Neilah's mom, Hillary, shares the following:
She had a lot of discomfort with nursing.
She could hear "clicking" whenever Neilah nursed and a lot of milk would leak out of the corner of her baby's mouth.
Neilah seemed to be swallowing a lot of air and experienced a lot of gassy, abdominal pain.
During the laser procedure, Hillary was able to swaddle her baby in a blanket and hold her during the entire procedure, which lasted about 1 minute.
Hillary shares that Dr. Korenman and his staff made the procedure very easy. She is grateful that the office hours at Loveable Smiles in Richardson were convenient and Dr. K's fees were more reasonable that other providers she had researched.
After her laser procedure to fix her lip and tongue ties, Hillary reports that Baby Neilah is doing great! There is no clicking and she's eating more when she nurses. Baby Neilah hasn't been as fussy since the procedure and mom thinks this is due to Neilah not swallowing so much air when she nurses.
The Laser Frenectomy at Loveable Smiles in Richardson uses cool water during the procedure. There is virtually no bleeding, no pain, no risk of infection and the healing is almost instantaneous for infants. The procedure takes less than 1 minute.
Dr. Korenman was featured on WFAA Channel 8 about the service.
You can watch it here. http://www.wfaa.com/videos/news/health/2015/02/24/simple-solution-helps-nursing-babies/23965539/
To schedule a consultation to check your baby for a lip or tongue tie, please call our office at Loveable Smiles at 972-231-0585.
Pediatric dentist Dallas Ft. Worth