Teeth and fillings expand and contract at different rates.  Over many years of ingesting hot and then cold food and drink, silver fillings experience expansion and contraction. The contraction creates openings between the tooth and the filling material. The expansion can contribute to the tooth cracking or worse, splitting.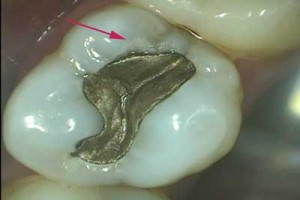 Dr. Korenman has even seen a large part of a tooth break off with the metal filling still completely intact.
Additionally, when you chew and your teeth come together there's a lot of pressure and force at work, and the metal filling takes the brunt of that pressure…which can also lead to the tooth being fractured much like a log being split.
When the seal between the tooth and the filling breaks down, food particles and decay-causing bacteria work their way between the worn filling and the tooth. These bacteria cannot be removed with a toothbrush or by any other means, and decay may develop along the edge of the filling or underneath it.
The most frustrating part of all this is that it happens painlessly with very few signs of a problem.
Dr. Korenman of Loveable Smiles has invested in the latest dental technology that allows him and his team to see things that normally go undetected.
He and his team can safely and effectively remove your silver fillings and restore your teeth to their their natural strength, beauty, and function.
We urge you to call Loveable Smiles for your Total Health Dental Care appointment. 972-231-0585