Today my 7 year old daughter Lauren had an upper lip frenectomy at Loveble Smiles in Richardson.  She has a gap in her two front teeth and it is our hope that by removing the flap of skin under her upper lip, and as her adult teeth come in, that will help to close the gap. She may still have to have some orthodontic work, but by performing the frenectomy now, that will allow for more "shifting" of her teeth as her permanent teeth grow in.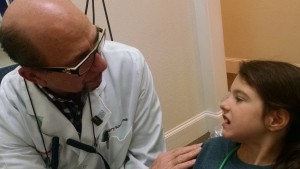 Dr. Korenman is known as the "Listening Dentist" and I would also say he is the "Gently Explains" dentist.
He took the time to talk about and demonstrate each step of the procedure to put my daughter at ease. He showed her the cool water that comes out of the Biolase laser and the red "laser light."
I think all of this explanation and Dr. Korenman's gentle nature helped my daughter to remain calm during the entire procedure.
It was fascinating to watch and I'm thankful Dr. Korenman has invested in the latest dental technology to be able to conduct these types of services painlessly.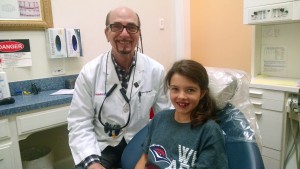 Thank you Dr. Korenman for taking great care of my daughter!