Welcome to Loveable Smiles in Richardson, TX!
It is our daily commitment to treat people, not just their teeth.
We invite you to have an enjoyable and painless dental visit at Loveable Smiles in Richardson. 972-231-0585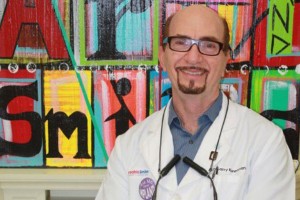 Dr. Lawrence J. Korenman is known as the "Listening Dentist."
Here are 8 reasons you are going to LOVE Loveable Smiles!
We will NEVER cause you pain. Korenman is dedicated to reversing the trend of miserable dental events. Dr. Korenman and his team encourage their patients to raise their "dental finger" if they are experiencing any discomfort. This is the left index finger and if you raise it, Dr. K will immediately stop work and will do any adjustments necessary to make you more comfortable.
We will always answer our phone. Our dentist, Dr. Larry Korenman even calls all of his patients the evening of their procedure and he provides his cell phone number to them in case they have any issues.
We have a dentist who will listen. Korenman is referred to as the "Listening Dentist." And patients really appreciate his willingness to listen to their concerns and fears.
Your time is valuable to us. We don't over-book our schedule and we promise to see you on time.
No surprises. We explain all treatments and fees for prescribed treatments so there are no surprises in the bill.
Healthy Mouth, Healthy Body. At Loveable Smiles, we practice Total Health Dentistry and educate our patients on the "Mouth Body Connection."
Even if it's been a while. If it's been some time or even a long time since your last appointment, we want you to know that we never will scold you or make you feel guilty about that because we are just glad to see you. We are here to serve you for a healthy future.
Ethical Dental Office. Loveable Smiles is the only dental office to have received the North Texas Business Ethics award from the Dallas Business Journal.
High Tech Office. Technology is the key to making company operations faster and more accurate. Dentistry is no exception. Korenman of Loveable Smiles has invested in the latest dental technology that allows him and his team to see things that normally go undetected. Using the NewTom VG3 Dental CAT-scan Dr. Korenman is able to obtain limitless, 3D views including between the teeth, under the gums, in the bones and even nerve canals and sinuses can be seen. This allows Dr. K to completely diagnose and provide full treatment options.Patients are now able to clearly see for themselves what is present as Dr. Korenman shows them in understandable terms.
We invite you to have an enjoyable and painless dental visit at Loveable Smiles in Richardson. Please call 972-231-0585.