"Forget the facelift! Get your teeth done instead!"
This is the advice from one of our patients who is thrilled with her new smile.
A "Smile Lift" or cosmetic dentistry with Dr. Korenman from Loveable Smiles in Richardson is easy, virtually painless and can have a significant impact on your entire appearance.
For many people, a healthier, more beautiful smile plays a major role in a quality-filled life. It can literally change the way you feel from the inside out.
There are a few options when it comes to a Smile Lift and whitening your teeth is one of the easiest and most immediate ways to help you look younger and more attractive.
When it comes to whitening, Dr. Korenman of Loveable Smiles is your best resource.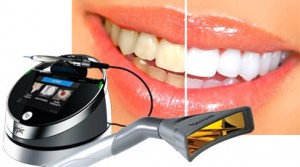 He provides laser whitening with the EPIC Diode Laser by Biolase, which not only activates the whitening agents that brighten tooth color, but does this so efficiently that treatment time only last 20 – 30 minutes (compared to most other traditional in-office whitening procedures which take an hour or more).
Additionally, a cosmetic smile makeover can usually be completed in as little as one hour to about 10 days from start to finish.
Dr. Korenman assesses several factors to determine your cosmetic dentistry treatment, which in some occasions can also correct certain health and function issues.
Dr. Korenman specializes in treating all of the following dental concerns:
Occlusion, or "bite position" – the nature of your "occlusion" – how your teeth come together when you bite down.
Tooth Alignment – teeth out of alignment often produce a poor appearance and may cause immediate and long-term problems with your dental health. Misaligned teeth can be corrected or altered in several ways to create a healthier, more attractive smile. Potential solutions include porcelain veneers, and Invisalign clear aligners.
Broken or chipped teeth are unattractive and uncomfortable. They can easily be restored and strengthened to ideal shape and size.
Worn Teeth – teeth that are extremely worn down can be lengthened and reshaped making them stronger and younger looking.
Discolored or Stained Teeth – teeth that have not responded to over-the-counter whitening products or formulas may respond better to and last much longer with specialized treatments provided by Dr. Korenman. Possible treatments include whitening and porcelain veneers.
Diastemas, or "spaces between your teeth", can also be easily corrected.
This Mother's Day, give mom the gift of a bright smile with a Laser Teeth Whitening or Smile Lift gift certificate.  
Call us Today to Order Your Gift Certificate and to Schedule Your Mom a Complimentary Consult Just in Time for Mother's Day!
(972)231-0585