This blog post is part of a series of Total Health Dental Care articles to inform our readers about the connection between your oral health and your overall health.
It's called the "Mouth-Body Connection," and it means that poor dental health can severely deteriorate your body, especially your lungs and heart, and it can also lead to a host to other conditions including rheumatoid arthritis, Alzheimer's disease and even some Cancers.
Rheumatoid Arthritis & Gum Disease Statistics

People with RA are 8 times more likely to develop gum disease than people without RA.
Studies have shown that when people with a severe form on RA, cleared up their gum disease, their pain and other arthritic symptoms got better.
People with RA sometimes have a hard time maintaining good oral hygiene because the disease can affect the joints in the hands, making brushing and flossing difficult. Electric toothbrushes and the AirFlosser by Sonicare can make dental care easier.
Common Arthritis medications target the immune system, which can weaken the immune system's ability to fight infections, including gum disease.
So, how is rheumatoid arthritis related to your mouth?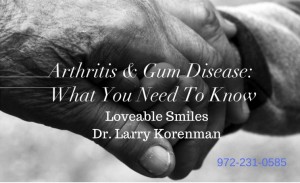 The number one cause of death is inflammation.
The number one cause of inflammation is gum disease.
Inflammation is a protective immune system response to substances like viruses and bacteria.  In autoimmune diseases like rheumatoid arthritis the immune system mistakenly triggers inflammation, although there are no bacteria or viruses to fight off. The inflammation causes joints to become swollen, painful and stiff.
Rheumatoid Arthritis and Gum Disease both have inflammation in common, which may explain the connection.
Controlling the inflammation with proactive dental care could play a role in reducing the incidence and severity of RA.
Medications and Dry Mouth
Pain relievers used to treat Rheumatoid Arthritis have a very common side effect: Dry Mouth.
Dry mouth is a growing problem in dentistry.  On a daily basis, Dr. Korenman and his staff see patients who suffer from dry mouth and the issues associated with dry mouth including tooth decay, gum disease and mouth sores.
Shocking Truth About Gum Disease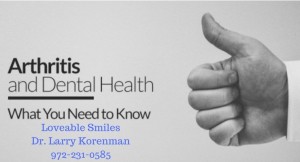 80% of people have Gum Disease and DO NOT KNOW IT! There is usually no pain involved for people until extremely late in the degeneration. Many gum problems will go unnoticed until they are diagnosed by a dentist.
The good news is that Dr. Korenman and his team are dedicated to educating the public about the dangers of gum disease and they check all their patients for it.
If you are diagnosed with gum disease, Dr. Korenman can design a treatment plan to help you keep it under control.  He even carries a line of natural oral care products called Effervess, specifically designed to help patients who suffer from dry mouth.
Additionally, if you suffer from Rheumatoid Arthritis, sometimes shorter appointments scheduled later in the day when joints are less stiff can make you more comfortable. We can also provide a neck or leg pillow for better support in the dental chair.
We urge you to call Loveable Smiles for your Total Health Dental Care appointment at 972-231-0585.
This is just one of many examples of how we treat people, not just teeth.
#arthritis
#drymouth
#medicationsideeffects