Natalie Jimenez has been an Dental Assistant since 2009. She recently moved to Garland from New Jersey to be near her parents. Within just a couple of weeks of moving to Texas, she gave birth to her 3rd son.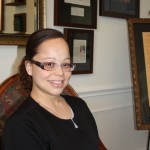 She and her husband enjoy spending time together as a family. Her boys are thrilled at having discovered What-A-Burger but the parents are still looking for a really good Tex Mex restaurant.
Natalie's gentle nature and goal to make the patient as comfortable as possible make her a favorite with patients and her fellow team members. Natalie brings more than six years experience to her role working side-by-side assisting Dr. Korenman with patient care. She loves the opportunity to work with the leading technology such as CEREC and Implant dentistry.
"I am a people person, and I love working with and learning about our patients. This job is so interesting, each patient has a different need, and each case is different. The combination of working so closely with patients, and the incredible opportunity to learn and grow makes this the perfect job for me. Dentistry today is exciting,. The technology is incredible, and Dr. Korenman and our entire team are committed to remaining cutting edge, in both the areas of high-tech dentistry and patient experience."