Properly aligned teeth have many health benefits including:
Teeth last longer.
A more balanced bite, can reduce excessive stress, headaches and strain on the supporting bone, muscles and jaw joints.
Easier to keep clean, leading to healthier teeth and gums.
Better oral health can reduce the incidence of heart disease, Alzheimer's disease and even some Cancers.
Better self-esteem and happiness with your natural youthful smile
Dr. Larry Korenman of Loveable Smiles in Richardson, a top Invisalign provider, is hosting two "Invisalign Days."
Tuesday, February 14 and Thursday, February 23.
Patients will receive: $500 off their Invisalign treatment. If they refer a friend who also purchases the Invisalign treatment, each patient will save $625.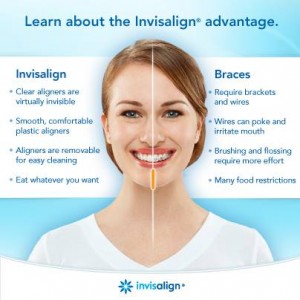 All Invisalign patients will receive:
Complimentary records (x-rays, photos, impressions, etc.);
Free Take-Home Teeth Whitening (with Invisalign purchase; $300 value);
$0 Down payment and no interest financing for 24 months for those who qualify;
Convenient payment plans.
Loveable Smiles is located at 1410 N. Plano Rd., Suite 200 in Richardson. 75081. Space is limited to the first 12 appointments.  Please call 972-231-0585.
Invisalign, the clear alternative to metal braces, offers a superior level of comfort, convenience and confidence. Invisalign aligner trays are not only smooth and comfortable to wear, but they're also removable. That means you can continue doing all the things you normally would, from brushing and flossing, to eating whatever you like.