Health starts in the mouth. Better oral health can reduce the incidence of heart disease, gastrointestinal disease, and other health conditions.
Since oral health directly impacts the health of the rest of the body, these gift ideas will help dad's overall well-being.
Sonicare AirFloss – Quickly cleans the entire mouth in just 60 seconds. Watch the Sonicare AirFloss in action in this video.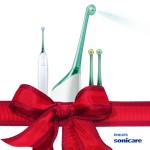 Sonicare Toothbrush – Philips Sonicare toothbrushes can help remove plaque, whiten teeth and improve gum health, giving you a clean you can feel. Loveable Smiles has Sonicare products cheaper than Walmart, PLUS you get professional instruction on how to get the best results!
Oxyfresh Mouthwash
The list of benefits for Oxyfresh mouth wash are extensive and include: No harsh burning sensation, which can be harmful to tissues. Sugar-free, aspartame-free and saccharine-free. Drug-free, dye-free and alcohol-free products to provide safe choices for every age.
Invisalign – The alternative to metal braces
Properly aligned teeth are not only attractive – but also healthier! Teeth that are properly aligned create a more balanced bite, and they are easier to keep clean, leading to healthier teeth and gums. Invisalign straightens your teeth with a series of clear, virtually invisible, customized aligners.
And finally, teeth whitening is a simple process that delivers brilliant results for your mom's smile. After a simple consultation with Dr. Korenman of Loveable Smiles, he will help your dad determine which teeth whitening system is right for him. We are able to provide gift certificates in any amount.
Please stop by Loveable Smiles in Richardson or call us at 972-231-0585.