New patients at Loveable Smiles always receive for following, complimentary: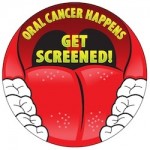 3D Imaging scan ($700 value)
Cavity detecting x-rays
Consultation with Dr. Korenman.
In addition, during the month of April, 2015, new patients will receive a FREE Oral Cancer Screening. ($65 value)
Already a patient? Bring in someone new and your exam will also be free!
Every hour, of every day one American dies of oral cancer.
It is assumed that Oral Cancer is mainly a disease of older people, contracted after a lifetime of smoking and drinking.
But things are changing and dentists are seeing an increase in young people with mouth cancer.
Despite the common risk factors, EVERYONE is at risk REGARDLESS of their risk factors.
Dentists are often the first line of defense against oral cancer, through the process of early discovery. They help find cancer at its earliest stage, when the chances for successful treatment are highest.
Common Signs of Oral Cancer:
Swelling/thickenings, lumps or bumps, rough spots/crusts/or eroded areas on the lips, gums, or other areas inside the mouth
The development of velvety white, red, or speckled (white and red) patches in the mouth
Unexplained bleeding in the mouth
Unexplained numbness, loss of feeling, or pain/tenderness in any area of the face, mouth, or neck
Persistent sores on the face, neck, or mouth that bleed easily and do not heal within two weeks
A soreness or feeling that something is caught in the back of the throat
Difficulty chewing or swallowing, speaking, or moving the jaw or tongue
Hoarseness, chronic sore throat, or changes in the voice
Ear pain
A change in the way your teeth or dentures fit together – a change in your "bite"
Dramatic weight loss
Call Loveable Smiles in Richardson for your Oral Cancer screening. The entire process takes less than 15 minutes. 972-231-0585
Loveable Smiles is located at 1410 N. Plano Rd., Suite 200 in Richardson. 75081.
Please call for your appointment. 972-231-0585