Quite often Dr. Korenman hears the following and very common dental myths: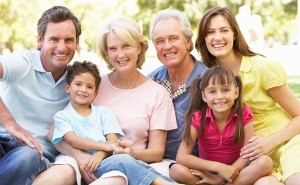 "Dentures run in my family." & "It's just normal aging to lose teeth."
The reality is that your teeth are designed to last a lifetime. They are called "Permanent teeth" for just that reason!
So many patients think it's just a matter of old age to lose all your teeth. (Dr. K thought this himself until he learned otherwise in dental school; all of his grandparents had dentures!)
Part of the problem with this Myth is that dentists themselves do not appreciate that many people think it is part of the natural aging process and neglect to tell them the facts!
The good news is that Dr. Korenman and his team can help you achieve Optimal Dental Health to help prevent you from ever losing a tooth and/or needing dentures.
What is optimal dental health?
Here at Loveable Smiles, we will find the underlying cause of your dental problem and will eliminate it to prevent future issues.  We won't simple "patch" the problem, but will take the time to solve it so the problem doesn't keep recurring.
Total Health Dentistry
Charles Mayo of the Mayo clinic was right when he said more than 100 years ago, "You will live another 10 years if your teeth and gums are healthy."

We pride ourselves on educating our clients about the connection between a healthy mouth and a healthy body.  At the start of each dental appointment we take our patients' blood pressure.  Additionally, we check all our patients for gum disease (which is mostly painless and affects 80% of people).
It's called the "Mouth-Body Connection," and it means that poor dental health can severely deteriorate your body, especially your heart, lungs and all the body's systems. It can also lead to a host to other conditions including Alzheimer's disease and even some Cancers.
Since your dentist is the only physician who checks you from the neck up, if he finds that you have inflammation in your mouth, it's highly probable you have inflammation in your body and he can recommend that you visit your cardiologist or internist.
So, if you think dentures run in your family and it's just a normal part of the aging process to lose teeth, we encourage you to call our office for your Total Health Dental Care appointment. 972-231-0585
If it's been a while since you've been to the dentist, we want you to know that we never scold people as we understand the reasons many people stay away. We want to help people and are very happy to be chosen for their dental needs. We simply want to help you avoid more problems in the future and want to help you attain a level of dental health that is so high that the only treatment that should be required for many years is the maintenance of that level of health with properly-scheduled future visits to prevent problems from recurring.  We look forward to seeing you! 972-231-0585