I am a busy mom of 3 and today I made the time to get an Oral Cancer Screening at Loveable Smiles in Richardson. I am not a smoker or a drinker but this is an important health screening. Oral Cancer is on the rise and since multiple types of Cancer run in my family, I wanted to take advantage of this simple screening.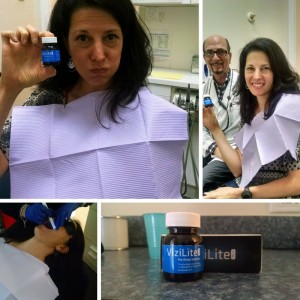 The first thing I had to do was swish with the ViziLite pre-rinse solution. It was a little vinegary, but not bad.
Then Chessa the hygienist used the fluorescent light to help spot any abnormal changes. She was very thorough and looked in all the "oral cervices" where Oral Cancer likes to hide: under my tongue and in between my cheeks and gums. She then palpitated/massaged my neck and throat area.
Dr. Korenman then came in and checked as well. He also used the fluorescent light and checked my lymph nodes for any tenderness or abnormal lumps.
The entire procedure was completely painless and took less than 15 minutes!
I am happy to report that I am Oral Cancer FREE!
I highly encourage you to schedule your free Oral Cancer screening at Loveable Smiles.  So many Cancers are much more treatable when they are caught early.  This simple procedure can give you peace of mind!
Loveable Smiles 972-231-0585