Health starts in the mouth. Better oral health can reduce the incidence of heart disease, gastrointestinal disease, and other health conditions.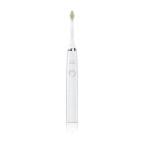 Here at Loveable Smiles, Dr. Korenman and his staff recommend electric toothbrush, specifically Philips Sonicare electric toothbrushes.
Dr. Korenman explains that electric toothbrushes clean more efficiently than their manual counterparts.
Here are the Top 3 Reasons Sonicare Electric Toothbrushes Are Superior To Manual Brushes:
Superior Plaque Removal
This is the most obvious reason to use a toothbrush, and all the more reason to use a Sonicare toothbrush. It is clinically proven to be significantly more effective than a manual toothbrush.
Healthier Gums
Sonicare is clinically proven to reverse gingivitis and help shrink periodontal pockets. Sonicare also massages your gums stimulating blood circulation and dislodging plaque along the gum line.
Naturally Whiter Teeth
The Sonicare toothbrush is clinically proven to significantly reduce coffee, tea, and tobacco stains in just 28 days.
Did you know? Loveable Smiles carries Philips Sonicare at a cheaper price than Walmart.
Here is a video to provide you a step-by-step instruction on how to brush your teeth using a sonic toothbrush.
If you buy your Sonicare from Loveable Smiles, you'll get professional instruction on how to get the best results!
For those who don't floss consistently, AirFloss Pro is the easiest way to effectively clean between teeth. By gently bursting away plaque that brushing missed, Philips Sonicare AirFloss Pro helps prevent cavities from forming in the spaces between your teeth.
Plus, the AirFloss quickly cleans the entire mouth in just 60 seconds.  Watch the Sonicare AirFloss in action in this video. 
Loveable Smiles in Richardson is your Dallas/Ft. Worth location for all Sonicare products.
Call us at 972-231-0585